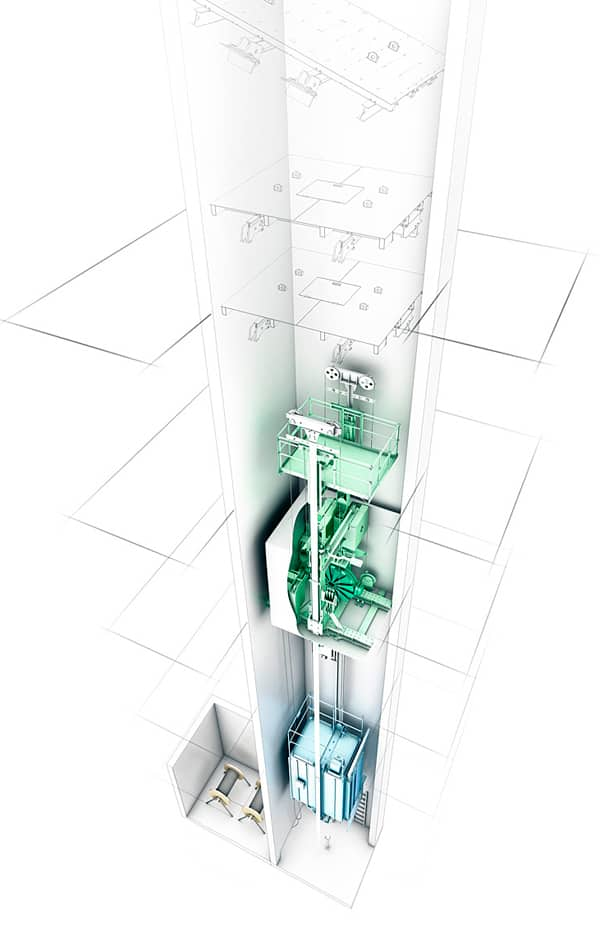 What does Toronto's tallest condominium One Bloor, Beijing's soaring skyscraper China Zun and Singapore's most spectacular luxury destination Marina Bay Sands have in common?
All of these construction marvels have taken a leap into the future with KONE's JumpLift solution, which was invented back in 2003. For years, construction sites across the globe struggled with safety concerns and efficiency of the exterior hoists. Not anymore.
The JumpLift technology uses a temporary machine room inside the permanent hoist way, which is self-climbing and 'jumps' upward as the construction work progresses. Simply put, the technology ensures that elevators, which so far used to be one of the last pieces of the construction puzzle, are ready to be used in the beginning. It is also used to move men and materials in a way that's faster, safer and more economical.
Experience shows that this has a cascading effect on traffic capacity, improving people and material flow efficiency by up to 50%. As a result, overall construction schedules can be shortened by several months, which means quicker return on investment. In fact, it gives builders a competitive advantage when tendering for projects by estimating lower costs and faster delivery.
It also reduces the downtime of elevator installation to a minimum. This is because when the building is complete, the JumpLift itself can be swiftly transformed into a good looking permanent elevator with installation of the final machinery, and the aesthetic for the elevator car, doors and signalization.
BUMPER BONANZA
For builders, this technology has spelt a never-before bonanza of benefits. The latest KONE JumpLift can travel up to 400m with maximum load of 4000kg clocking in a speed of up to 4.0 m/s, which is about 4-6 times faster than a traditional hoist. In some cases, the technology has enabled even 500m travels.
This technological stride has facilitated smooth flow of people and goods challenging the conventional wisdom of the industry. In the dynamic world of construction, where each building has stakes as high as its altitude, KONE JumpLift is an innovation that has heralded a new vertical order.